Austrian innovation awards have repeatedly recognized trafomodernís ability and willingness to innovate.
To a large extent, trafomodernís standard lines of products are available with†national and international marks.
†
National / International Marks of Conformity
In addition to the high quality of our products we continuously endeavour to provide our customers with the greatest possible formal support especially in industries with a high export quota or in the offshore area.
In addition to adhering to the†European standards EN61558/VDE0750†the majority of our devices are built and tested also in accordance with the†North American UL5085-2 and the†Canadian CSA22 No.66 standards.
To guarantee this high quality levels, the following marks are available: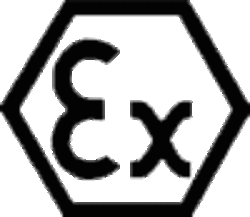 Mark certifying the protection increased safety "e" in accordance with EN60079-7. Components with this mark are especially suited for the equipment group II, category 2, for the use in explosive atmospheres caused by mixtures of air and gases (with the exception of mines endangered by firedamp).

†

The
UL Recognized Component Mark
may be used on component parts that are part of a larger product or system. This mark is used if the product is either type-tested (listed under class† XPTQ2/XPTQ8) or manufactured with materials complying with an Electrical Insulation Systems (class OBJY2). The label itself does not declare the way of its compliance. This very important question can easily be answered by query in the
UL-Database
or checking the corresponding yellow-card. To prevent troubles during certification of their product, manufacturers of machines according to UL508 (Industrial Control Equipment) should check in advance which type of release (type-tested of EIS) is required.
trafomodern offers as well type-tested single phase and three phase transformers up to 6,3kVA as three-phase chokes up to size DDK40.†
Many other products may be equipped with EIS class B (130įC) or class F (155į) either.
†
†
†