Environment Simulation
In order to comply with the requirements of the European standard EN61558/VDE0750 it is necessary during the prototype test to simulate the actual ambient temperature. For this task a heating chamber is available which is able to simulate temperatures from +20°C to +75°C even with high dissipations of up to 2,5kW.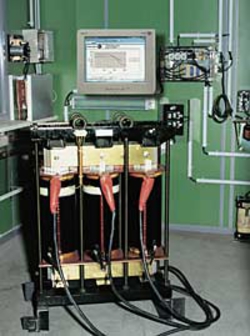 Test area for chokes
To verify the calculation models employed and ensure adherence to customer requirements it is important with modern inductive components, especially with inductance values for speed-controlled drivers with clock rates in the kHz range, to ensure the required inductance.
While establishing the apparent inductance by means of current-voltage measurement was largely sufficient with 50Hz, it is necessary for switched applications to know the flow of incremental inductance.
 
Partial Discharge measurement
As described in standard EN60076 every dry type transformers with Um>3,6 kV must be tested with a partial discharge test equipment. With this partial discharge test equipment the device can be tested up to a power frequency withstand voltage of 45 kV. One-phase and three-phase-transformers are energized with a power frequency withstand voltage of 400 Hz. The apparent charge is measured by a modern partial discharge test equipment.