Designed and tested according
· IEC/EN 61558-2-1 / EN 60076-11
Typical applications
Inverter applications
Basic equipment
Separate windings
Insulation class B / F 25 kVA
Ambient temperature –25 to 40 °C
Connection terminal (<=115 A) Frequency 50/60 Hz
Sample order
requested type D4TB20
requested rated input voltage 400 V
requested rated output voltage 320 V
requested vector group Yd5
The correct type designation reads D4TB20 (400/320) Yd5
The unambiguous article number of your configuration will be defined by trafomodern during the offer- and order process.
Technical notes
Important notes:
Static shield windings is additional shielding between primary and secondary sides.
For versions with increased climate resistance, the transformers is supplied with a specially insulated finish.The finish enables the transformer to be used in areas of high humidity.
Transformer version with reinforced insulation upon request.
CUR according to EIS 130 or EIS 155 to OBJY2. or OBJY8.E160829 (Systems, Electrical Insulation – Component bzw. Systems, Electrical Insulation Certified for Canada – Component)
When ordering, the following information must be added to the type designation:D4TF(*/*)*1st place holder  ≙ rated input voltage
2nd place holder ≙ rated output voltage
3rd place holder ≙ vector group
| Type rating for use according to insulation class1) B kVA | Type rating for use according to insulation class1) F kVA | Rated input voltage V (selectable) | Rated output voltage V (selectable) | Type | Price per unit Euro | Price for currents up to A | Cu-factor 2) |
| --- | --- | --- | --- | --- | --- | --- | --- |
| 4,0 | | 50-1000 | 50-1000 | D4TB4,0(*/*)* | Price on request | Price on request | 15 |
| 5,0 | | 50-1000 | 50-1000 | D4TB5,0(*/*)* | | | 11,90 |
| 6,3 | | 50-1000 | 50-1000 | D4TB6,3(*/*)* | | | 10,00 |
| 8,0 | | 50-1000 | 50-1000 | D4TB8,0(*/*)* | | | 11,00 |
| 10,0 | | 50-1000 | 50-1000 | D4TB10,0(*/*)* | | | 13,50 |
| 12,5 | | 50-1000 | 50-1000 | D4TB12,5(*/*)* | | | 14,90 |
| 16,0 | | 50-1000 | 50-1000 | D4TB16,0(*/*)* | | | 26,40 |
| 20,0 | | 50-1000 | 50-1000 | D4TB20,0(*/*)* | | | 38,30 |
| | 25 | 50-1000 | 50-1000 | D4TF25,0(*/*)* | | | 38,50 |
| | 32 | 50-1000 | 50-1000 | D4TF32,0(*/*)* | | | 39,50 |
| | 40 | 50-1000 | 50-1000 | D4TF40,0(*/*)* | | | 51,00 |
| | 50 | 50-1000 | 50-1000 | D4TF50,0(*/*)* | | | 72,80 |
| | 63 | 50-1000 | 50-1000 | D4TF63,0(*/*)* | | | 61,40 |
| | 80 | 50-1000 | 50-1000 | D4TF80,0(*/*)* | | | 110,00 |
| | 100 | 50-1000 | 50-1000 | D4TF100,0(*/*)* | | | 120,00 |
1) Rated output when used according to insulation class B, maximum of 130° C; for insulation class F maximum of 155° C
2) The calculation method of the material price surcharge will be explained in Section 2.1 in the general conditions of busines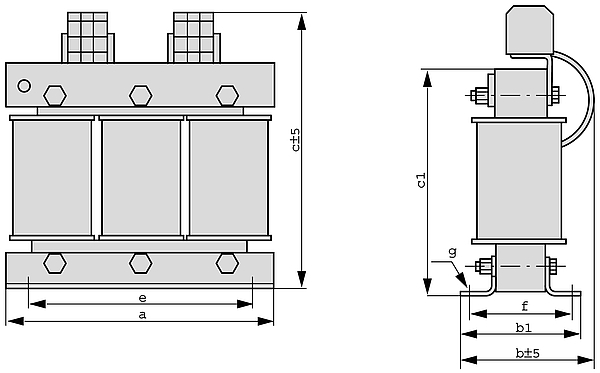 Typ
total
weight
Leer-
lauf-
verluste
Kurz-
schluss-
verluste*
Kurz-
schluss-
spannung
Wirkungs-
grad
a
b
b1
c
c1
e
f
ø g
kg
W
W
%
D4TB4,0
31
45
210
≥4
0,88
300
154
147
290
260
224
119
10 x 18
D4TB5,0
45
40
270
≥4
0,9
300
193
162
334
260
224
134
10 x 18
D4TB6,3
55
60
315
≥4
0,9
390
184
152
384
310
350
126
10 x 18
D4TB8,0
70
75
340
≥4
0,91
390
199
167
384
310
350
141
10 x 18
D4TB10,0
95
95
505
≥4
0,92
450
204
172
434
360
400
142
13 x 20
D4TB12,5
95
95
490
≥4
0,96
450
204
172
434
360
400
142
13 x 20
D4TB16,0
115
120
650
≥4
0,97
450
264
232
434
360
400
202
13 x 20
D4TB20,0
150
130
720
≥4
0,97
540
267
–
496
–
450
197
14 x 20
Dimensional drawings for D4TF25,0 to D4TF100 available on request
all dimensions in mm