Designed and tested according
· IEC/EN 61558-2-20
Typical applications
Inverter applications
Basic equipment
Insulation class B Ambient temperature –25 to 40 °C Connection terminal (<=25 A) Frequency 50/60 Hz
Sample order
requested inductivity 25 mH rated output 5,9 A calculated energy value according to formula 0,87 Ws, Typ DEG0,16 The correct type designation reads DEG0,16(25mH/5,9A). The umambiguous article number of your configuration will be defined by trafomodern during the offer- and process.
Technical notes
Formula for the calculation of the energy value:
W = L x I
2
L = inductivity [H] I = current [A] For the exact design of the choke the following information must be added to the type designation:
DEG0,16(*mH/*A)
Replace the place holder in front of mH with the value of the inductivity and the place holder in front of A with the current.
| Energy value L x I2 Ws | Price1) of currents up to A | Type | Price per unit Euro | Cu-factor 2) |
| --- | --- | --- | --- | --- |
| 0,19 | Price on request | DEG0,03(*mH/*A) | Price on request | 0,15 |
| 0,38 | | DEG0,06(*mH/*A) | | 0,25 |
| 0,64 | | DEG0,1(*mH/*A) | | 0,30 |
| 1 | | DEG0,16(*mH/*A) | | 0,40 |
| 1,3 | | DEG0,2(*mH/*A) | | 1,00 |
| 1,6 | | DEG0,25(*mH/*A) | | 1,00 |
| 2 | | DEG0,315(*mH/*A) | | 1,20 |
| 2,5 | | DEG0,4(*mH/*A) | | 1,30 |
| 3,2 | | DEG0,5(*mH/*A) | | 1,40 |
| 4 | | DEG0,63(*mH/*A) | | 2,00 |
| 5,1 | | DEG0,8(*mH/*A) | | 2,30 |
| 6,4 | | DEG1,0(*mH/*A) | | 3,00 |
| 8,3 | | DEG1,3(*mH/*A) | | 4,00 |
| 10,2 | | DEG1,6(*mH/*A) | | 4,50 |
| 12,7 | | DEG2,0(*mH/*A) | | 5,00 |
| 15,9 | | DEG2,5(*mH/*A) | | 5,50 |
| 19,1 | | DEG3,0(*mH/*A) | | 10,80 |
| 25,5 | | DEG4,0(*mH/*A) | | 11,00 |
1) Excess charge for increased current on request
2) The calculation method of the material price surcharge will be explained in Section 2.1 in the general conditions of busines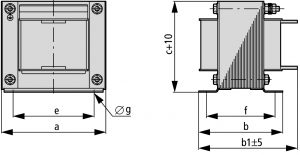 all dimensions in mm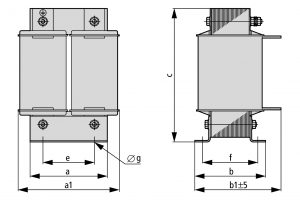 all dimensions in mm