Designed and tested according
· IEC/EN 61558-2-20 / EN60076-6 · UL 5085-2 · CSA 22.2 No. 66 (UL/CSA nur bis 600V)
Typical applications
Inverter applications
Basic equipment
Insulation class B / F ab 6,3 kVA Ambient temperature –25 to 40 °C Connection terminal (<=115 A) Frequency 50/60 Hz
Technical notes
CUR according to UL-File XPTQ2. or XPTQ8. E168819 (General Purpose-Component)
| ΔU = 9,2 V / phase rated current A | Inductivity L mH | Type, Order no. | Price per unit Euro | Cu-factor |
| --- | --- | --- | --- | --- |
| 7 | 4,18 | DDK0,1-9,2 215499 | Price on request | 0,41 |
| 11 | 2,66 | DDK0,16-9,2 215500 | | 0,70 |
| 18 | 1,62 | DDK0,25-9,2 215501 | | 0,87 |
| 29 | 1,01 | DDK0,4-9,2 215502 | | 2,10 |
| 36 | 0,81 | DDK0,5-9,2 215503 | | 1,65 |
| 45 | 0,65 | DDK0,63-9,2 215504 | | 2,45 |
| 70 | 0,41 | DDK1,0-9,2 215505 | | 2,75 |
| 95 | 0,3 | DDK1,3-9,2 215506 | | 3,40 |
| 115 | 0,25 | DDK1,6-9,2 215507 | | 4,20 |
| 145 | 0,2 | DDK2,0-9,2 215508 | | 4,70 |
| 180 | 0,16 | DDK2,5-9,2 215510 | | 6,40 |
| 230 | 0,127 | DDK3,2-9,2 215513 | | 8,80 |
| 290 | 0,1 | DDK4,0-9,2 215514 | | 10,00 |
| 360 | 0,081 | DDK5,0-9,2 215515 | | 10,50 |
| 455 | 0,064 | DDK6,3-9,2 215516 | | 12,30 |
| 580 | 0,05 | DDK8,0-9,2 215517 | | 21,50 |
| 725 | 0,04 | DDK10,0-9,2 215518 | | 22,00 |
| 905 | 0,032 | DDK12,5-9,2 215519 | | 35,00 |
| 1160 | 0,025 | DDK16,0-9,2 215520 | | 48,00 |
| 1450 | 0,02 | DDK20,0-9,2 215521 | | 58,00 |
| 1810 | 0,016 | DDK25,0-9,2 215522 | | 61,00 |
| 2320 | 0,012 | DDK32,0-9,2 215523 | | 80,00 |
| 2900 | 0,01 | DDK40,0-9,2 215524 | | 63,00 |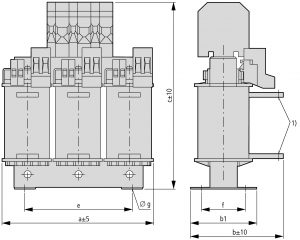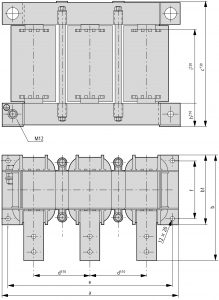 all dimensions in mm.
Dimension b is a maximum dimension depending on the rated current and the terminal lugs used.
Dimension c depends on the choke data (number of windings and set air core).
The precise height and depth of the choke can only be determined on the basis of the choke data.